Actionable Steps for a Successful Content Strategy
Written by Michael Riley on August 6, 2014

How to assemble the foundation
of an online marketing campaign
Ahava Leibtag
has been working in content strategy for over 15 years. She wrote the book
Digital Crown: Winning on the Web
to share everything she has learned. And she recently gave a talk titled "Content Marketing and Content Strategy: A Peaceful Coexistence?". This post is based on the wealth of information she presented.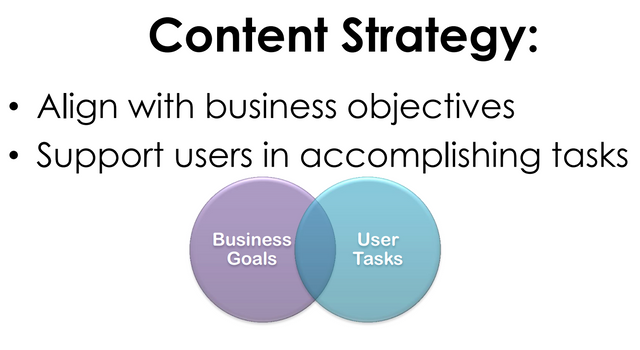 You need to answer 5 questions to build a successful content strategy.

And there is a specialized tool for each question.
Question 1:
To Whom are You Speaking?
The best way to define your audience is by creating a customer persona. Building a detailed profile puts a face on who you are targeting, and allows you to ask questions of them. The persona should contain enough information to make getting answers from them possible. Here's an example: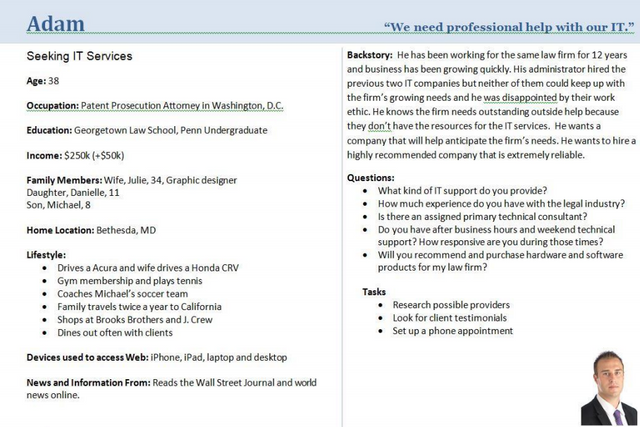 Notice how much detail is included in this profile of Adam. It really brings the persona to life, so your team can ask Adam questions and look through his eyes.
Question 2:
Who are You?
Identity pillars are a tool for developing your brand identity. Filling in the details gives everyone a specific and consistent vision to be used throughout your messaging. You start by writing out the current perception of each brand trait. You can use existing research or come up with a list of descriptors that fit. And then you fill in what the new goals are for each pillar.

Let's imagine we are doing this for JC Penney. They made some interesting changes to their strategy a couple years ago.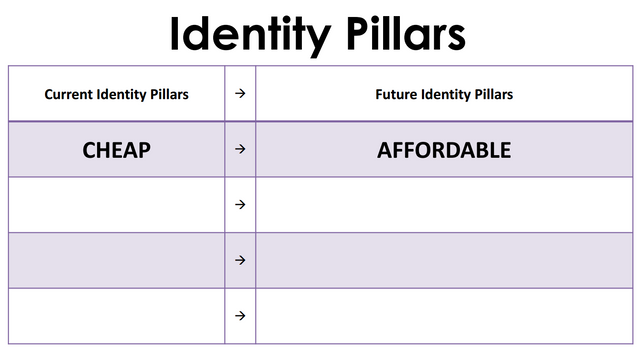 Question 3:
What are you trying to say?
A messaging architecture is then built to provide everything you want to communicate about your identity pillars. An articulation statement is set to describe what each pillar means. The messaging is then filled in to describe how this is communicated to your audience. This process takes some refining to distill down the important concepts of your marketing strategy. It will be the base for all your content efforts in the future. Each pillar is weighted by a percentage.

For JC Penney, the below statements and messaging would be a good fit for the "Affordable" identity pillar.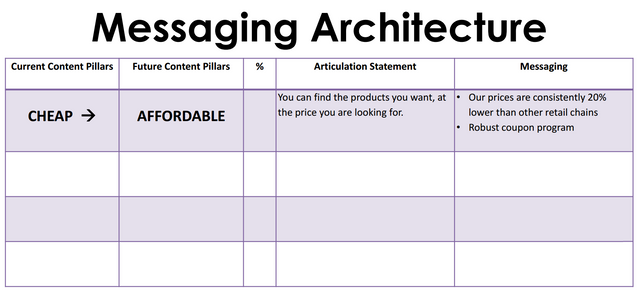 Question 4:
How do you say it?
Voice and tone must be established to set the guidelines for communicating your messaging. You can start by brainstorming a list of adjectives to describe your brand. Fun, playful, colorful and cheerful? Or serious, trustworthy, honest and forthright? Developing the characteristics of your consistent tone and voice will guide content creators in staying on track. This gives you a structure to develop content and will help you select appropriate topics.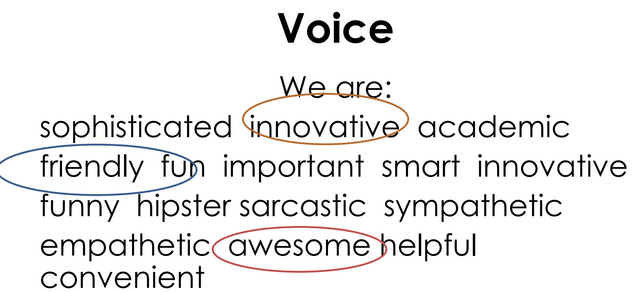 Question 5:
When and where do you say it?
Filling out an editorial calendar is the final step of developing your content strategy foundation. This lays out a schedule for every marketing channel you wish to pursue. Content can be published on a regular schedule to your website, social media and other outlets that are effective in reaching your audience. Separate strategies can be applied to each, and it allows for the re-purposing of the source material into different forms.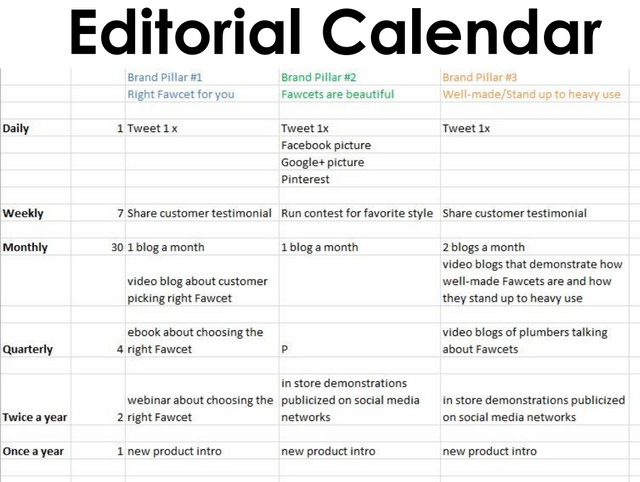 Once all five questions have been fully answered using these tools, it's simply a matter of implementing this content strategy in your marketing campaigns. This next part of the process will be covered in a follow up post. Look for that to be published in the next week or so.
Update:
Part 2 can be read here