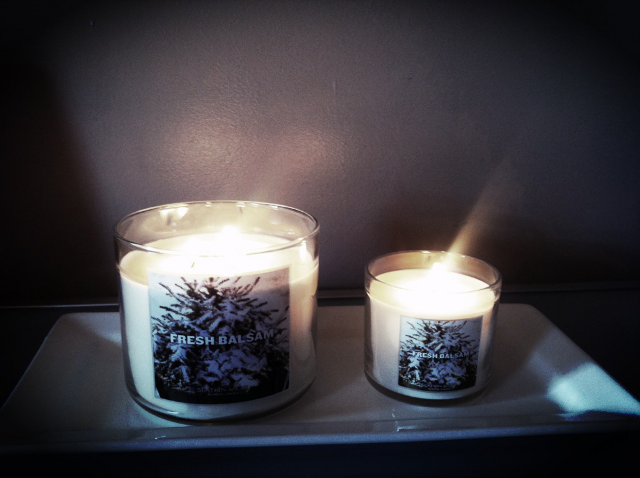 Fresh Balsam and Twisted Peppermint Jars
By Slatkin (Bath and Body Works) Candles
Let me start by saying that I am not a big fan of Slatkin candles in general. However, when the winter holidays are around, I really like to burn a two specific scents from the Slatkin Holiday Candle collection. The aromas of all Slatkin candles are so strong that they still give off their scent even when they are not burning. Harry Slatkin lives up to his name as the "King of home fragrance". They come in 3 different sizes – 1.6oz (mini), 4oz, and the big 14.5oz 3 wick style.
The two scents that I love are "Fresh Balsam", which smells just like a fresh Christmas tree and "Twisted Peppermint" (the white one, not the blue one), which, as the name suggests, has a strong scent of mint but also a slight hint of vanilla. Slatkin simply nailed these scents. As you might have guessed, these scents are only available during the holiday season. There are other scents avaialble all year around though.
The burn times vary greatly between the sizes. The 14.5 oz lasts 30 to 45 hours, and the size I prefer.
If you are near a Bath & Body works, I recommend to head there during the holidays and pick up these two scents. The white Twisted Peppermint is a little harder to find, but if you can find one it is worth it as the scent is much stronger. Also if you are lucky to catch the one a year sale, you can get them at a great price. While you are there, sample the other scents, you may find something you like.
Overall, I give general Slatkin candles 2 flames out of 5, but I give the scents of "Fresh Balsam" and "Twisted Peppermint" 3 flames out of 5.