Solutions Content
Written by Michael Riley on July 15, 2015

How focusing on solving problems
is a successful content strategy

"The best solutions journalism involves deep dives, critical assessments, and compelling stories about the ideas, models, policies, organizations, and people working to solve our toughest problems."
Tina Rosenberg is a Pulitzer prize winning reporter for the NY Times, and the co-founder of the Solutions Journalism movement. She presented an inspiring presentation the other day at Benjamin's Desk on her work.
What is Solutions Journalism?
There are 10 questions to ask if an article is actually offering a solution.
1. Does the story explain the causes of a problem?
2. Does the story present an associated response to that problem?
3. Does the story get into the problem solving and how-to details?
4. Is the problem solving process central to the narrative?
5. Does the story present evidence of the results linked to the response?
6. Does the story explain the limitations of the response?
7. Does the story convey and insight or teachable lesson?
8. Does the story avoid reading like a puff piece?
9. Does the story draw on sources who have a ground-level understanding, not just 30,000 foot expertise?
10. Does the story give a greater attention to the response than to a leader/innovator/do-gooder?


If you can answer yes to each, or at least most of these questions, you should have a good Solutions Story.


What If We Apply this to Content?
If content passes the Solutions Journalism test, then you have content that offers real value, and it has all kinds of interesting side effects. "Solutions Content" is a new concept I came up with, and have been testing out.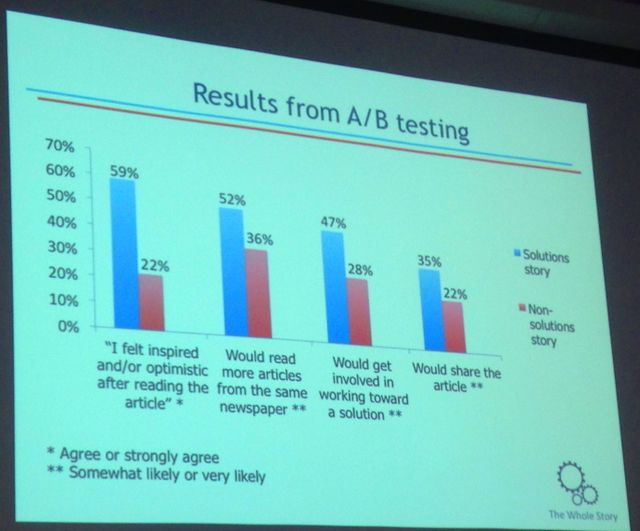 52% Return Traffic
+
35% Social Sharing
The above results show how this can be used as a framework for more successful content marketing. A significant increase in return traffic, combined with the increase in social sharing, leads to a snowball effect for greatly increasing web traffic.
Rise Above the Noise

Solutions Content raises the bar for content marketing. It gives your audience more value because it offers actionable solutions to their problems. You simply have to follow the process below to target your audience and reap the benefits.
How to Find a Solution Story
Look for a problems that's widely shared within your target audience.
Look for a key cause of this problem that is also widely shared.
Look for something that successfully attracted attention and responses in the past
Still Can't find a Solution Story?
Search more broadly, or more narrowly
Look for a solution to a small slice of the problem that affects your area. There was a Chicago program that successfully reduced obesity for kids. A reporter was then able to write about how this program could be implemented for adults too, so it could solve a broader problem.
Define "solution" down
It doesn't have to be the best solution. It just has to be a good story. It doesn't need to be 100% successful, or even 50%. It just has to be a good story. You simply need to tell your readers about the limitations of the solution.
How to Make Solutions Content?
Solutions stories have characters
But the story is what the characters are doing, and not just about who they are.
Solution stories have tension
But the tension isn't from the clash of two sides. It's from how they solve the problem, and how they overcome their obstacles.
The 5 W's plus H
Who, what, when, where and how. The details from these answers add interest and credibility to your story. A good example is how the House TV show focuses on the details.
Cover a specific program
Look for a program that is solving a problem for people. Focus on the idea behind the program, and why it's needed by people. There was a year-long series of stories on pre-k education in Seattle that was a good example.
Covering new initiatives
A new unproven idea can be a solutions story, just lay out evidence. Example story: Did the city bring down its murder rate by paying people not to kill?
Cover Academic studies
There's a wealth of information published in academic journals. Simply look for topics that affect your audience.
Do a Quickie
A solution story can be quick and easy. An example was a bed bug fix story.
Data-driven story
Kentucky residences stood out as blue on a color-coded map of people that had increased their physical activity from 2001 to 2011. There is often interesting stories behind data like that.
Comparing two examples
One story compared c-section rates in two different hospitals. One had a dramatically higher rate of surgery over the nearby Samaritan hospital.
Part of a longer series or documentary
Deeper stories like how health insurance in America has affected the lives of people can be broken up into an entire series of articles.
Look for an investigation
You can find solutions in investigations. Look for topics of interest. The more investigation you do on your own, the more value you can offer via original content.
Solutions Content is a new idea generation methodology for marketing. It takes more work than slapping together top ten lists and other fluff pieces, but there's a lot more potential. Showing people solutions to problems simply gives them more value.




"Journalism has been revolutionized in the last 10 years, but almost all the change is in platform and technology."
-Tina Rosenberg