Rick Nucci: Lessons Learned from 14 Years of Startups
Written by Michael Riley on September 17, 2014

The story of how Boomi succeeded through failure, leading to Guru
Startups have to crave feedback. The best thing you can hear is: "That idea is ridiculous, and here's the three things that will make it better."
Boomi is a startup that Rick Nucci founded in 2000, and it was acquired by Dell in 2010. And as Rick said, "Plenty of good and bad things happened along the way."
Boomi started out with a new take on an old service. They offered enterprise software integration services in a crowded market with big competitors (like Microsoft). This lack of differentiation prevented Boomi from getting the growth they were looking for. They ended up re-building the product and go-to-market to be a cloud company. They described themselves as wanting to reinvent integration like Salesforce reinvented CRM. Their new cloud focus made them unique in the market, and eventually lead to strong growth and a successful exit to Dell.
Boomi 1.0 started off with three technical co-founders that had worked together at the same company. They met a former CIO who happened to appreciate the the problem they were solving, and just had a successful exit. He became their first angel by investing $300K to get the company started.
A Complementary Team is Critical
The first two years of Boomi was fraught with false starts and failure. The original team didn't place any importance on sales experience. And having an unbalanced team where all three founders came from the same perspective didn't work. Two of the original co-founders had left by 2002, and Boomi focused on improving their product, differentiation, and leadership team needed for success. By 2006 Bob Moul had joined as the CEO to lead the company, and Rick's position was CTO until he took over as CEO in 2011.
Boomi didn't receive VC funding until the company was 8 years old. They had a total of $900K in angel funding leading up to that point. And then in 2008 they raised $6 million, followed by another $4 million by 2010.
Dell bought Boomi for a substantial sum that made everyone happy later in 2010. They sold because it was a good opportunity to leverage the fact that Dell wanted to get into the cloud business. So they were able to valuate Boomi substantially higher than a calculation based on revenue. That and the fact that Dell agreed to keep the company intact and in place made it an easy decision. Everyone in the company was given bonuses to stay on, so it worked out well for everyone involved. Dell Boomi continues growing to this day.
What made Boomi successful?
Boomi learned to build their team around customer success. What they lacked in sales training they made up for with passion. Getting inside the head of their customers and delivering exactly what they wanted was what made Boomi work.
You have to find the magic moments for your product. For Boomi it was a feature that auto-suggested the customer's mappings. This solved a serious pain point for them.
Figure out who the buyer is, and learn to speak their language. Find the value proposition that works for them.
Boomi tested out various traction channels over the years. They found that SEO and ads didn't work. No one was looking for what they were selling. They had to educate customers about why they needed Boomi's innovative new products.

Three channels did work for them:
PR - Cloud services was a new concept at the time. Tech journalists like writing about cool new things, so it was just a matter of reaching out to them.
Business Development - Reaching out and partnering with other businesses got them more customers.
Inside Sales - Selling their products remotely with an in-house sales team worked best for bringing in new business. This is what Boomi does to this day.
How do you find successful traction channels?
Testing traction channels is a process of trial and error. Pick three at a time and test them for a few months. You have to organically find what works and doesn't work for your startup. You can and will mess up countless times - it doesn't matter though. You have to make the mistakes feel like part of the process. You simply learn and move on until you find what works best.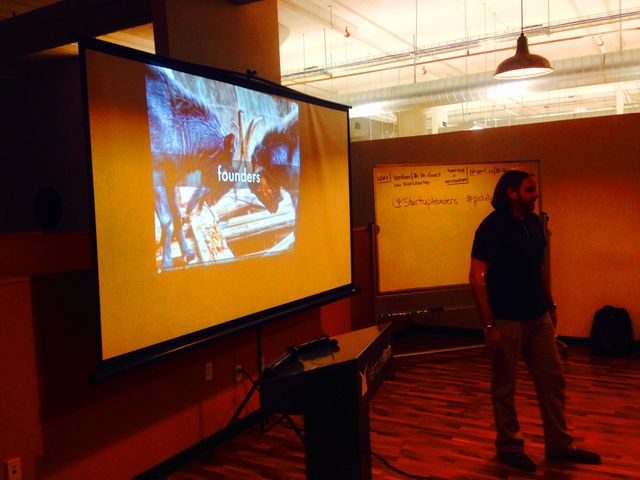 Advice (about advice)
Try to orient yourself so people will give you critical feedback. That's the only way to get better at what you're doing. Going to conferences and getting high fives from everyone won't build a successful startup.
Rick's goal is to disillusion founders of their ideas of glamor and glory of running a startup. It's a lot of hard work, and getting $20 million in funding pre-product or pre-traction is not reality.
The average startup is a 7-10 year journey. The ones you hear about on Techcrunch turning successful overnight are the exception.
Failing fast and iterating as quickly and efficiently as possible is the only way to recover from mistakes. Focusing on building a team around customer success is what drove Boomi forward.
Ideally, you should should launch a product to market within one year. So you should make sure you have the funding to get you through that year. And when raising each additional round of funding it's a good rule of thumb to get at least one more year of runway at a time.
Guru is Rick's latest startup. It began development in January 2014, it's in beta now, and should be launched to market by January 2015.
Pricing?
Looking back, Boomi's pricing was too low when they initially launched. First, they needed to come up a new unit of pricing to match the value of their product to the problem it was solving. They introduced the "connection" pricing unit and still use it today. This ended up being the right unit, however they made the mistake of basing pricing around what smaller companies could afford, setting the connection price to too low. Larger companies were willing to pay exponentially more because their integration problems were that much greater. They were able to raise prices substantially three times in a year to address this and get the pricing in line with the market need. You simply keep prices the same for existing customers, and keep raising the prices for new customers until you meet resistance.
Customer Acquisition?
Rick believes in the philosophy of "logo-ing up". Every startup wants to show off some big name logos as customers. But in the world of B2B sales it could take most of a year and countless hoop jumps to bring in those deals early on. It's better to focus on companies that you can close deals with quickly and efficiently. And then work your way up the ladder as you mature. Elephant hunting is dangerous.
NDA?
Guru's secret sauce has six different ingredients. To get feedback Rick will only mention any two of these ingredients in a conversation. No one signs an NDA. And most people are too busy with their own work to try to execute someone else's idea anyway.
Equity?
To grow a startup fast you often times will need to raise capital to expedite things like product development, sales and marketing. Fundraising means you have to be comfortable with giving up equity. As your company continues to grow you will typically raise additional rounds of capital. This requires you to sell more stock for the additional capital. How much stock you end up selling will be correlated to how well you are performing as a company; if you meet milestones you will get a higher valuation and keep more equity in the next round. You get paid for performance by preserving a higher % of ownership through those future rounds of funding.
Philly?
"I've started two companies in Philly. And I will never start one anywhere else. It's the best time to start a company outside Silicon Valley."
This talk was from the first event in the PSLU Startup Bootcamp series. Look for more startup insights coming out over the next three months of the program. The tickets have sold out, but we will be sharing the talks and resources with the entire community.
Update:
Here's the video of the entire 1+ hour talk.